Freight car backlog grows 75%
The backlog of freight cars grew by about 75% in 2014, according to fourth-quarter reporting statistics compiled by the Railway Supply Institute American Railway Car Institute (ARCI) Committee. As of Dec. 31, 2014, the backlog stood at 142,837 units, compared to 81,927 units at the end of 2014's first quarter.
Orders in 2014's fourth-quarter decreased slightly, from 42,900 in the third quarter to 37,431. Deliveries stood relatively flat at 18,941 units, compared to 18,432 units in the third quarter. However, total orders of 138,234 cars in 2014 were nearly double that of 2013's 66,569 cars.
2014 deliveries of 67,383 cars were 27% higher than 2013's 53,050 cars. The number of deliveries has risen sharply since 2010, a rough year for the industry, when only 16,535 cars were delivered.
Tank car orders in the fourth quarter topped all other car types, at 14,964 units - about 60% of the total, and the highest ever in the modern era (post-1980 Staggers Act), according to the ARCI. Covered hoppers under 3,500 cubic feet came in second in orders, at 8,627 units. Trailing in third and fourth place, respectively, were articulated intermodal platforms, at 5392 units, and covered hoppers in the 3,500-5,500 cubic-foot range, at 3,802 units.
For more detailed information, see the chart, below.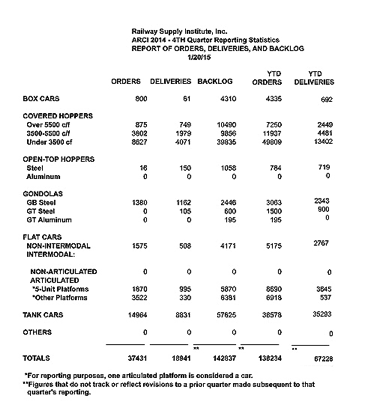 Source: Railway Age