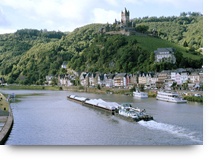 WRDA bill neglects inland waterways
Noticeably absent from the House version of the Water Resources Development Act of 2010 that cleared the Transportation and Infrastructure Committee on July 29 is any spending permission for long-neglected maintenance of locks, dams and other inland waterway infrastructure.
The bill reauthorizes almost $6 billion for water resources studies and construction projects by the Army Corps of Civil Engineers for environmental restoration and protection, hurricane damage prevention, and flood damage reduction. And it would require all harbor maintenance tax funds be used for navigation maintenance dredging of ports instead of being held in reserve to mask the deficit. But there is no aid for inland waterways in the legislation, save for a couple of tiny projects on minor tributaries.
The Waterways Council, whose members include bulk shippers and carriers, ports, shipping associations and environmental groups, tried to get the committee to include a Inland Waterways Capital Development plan in the bill, but was informed that discussions with the administration and within Congress about shaping inland waterway policy had not been completed by the time of the vote, said Cornel Martin, the group's president, when contacted about the matter.
The Inland Waterways User Group, a federal advisory panel comprising industry stakeholders, and the Army Corps of Engineers last December completed the Capital Development plan prioritizing infrastructure improvements for the next 20 years and making other recommendations related to project management and funding.
The waterways industry still hopes that funding authorization for its sector can be added when the bill reaches the House floor or in conference committee when combining with the Senate version of the bill, Martin said.
The average age of the 192 lock sites on the 12,000-mile inland waterway system is more than 50 years old. Shippers and barge operators fear that a major breakdown would take months or more to repair and prevent grain, coal, cement and other commodities from reaching their destination, hurting local and national economies.
During the past year there have been four major mechanical breakdowns of locks on the Ohio River system. The silver lining is that those lock sites have dual chambers, enabling river traffic to keep moving through a single lane, Martin said during an informal roundtable discussion on maritime issues convened in March by Rep. John Mica of Florida, the top Republican on the House Transportation and Infrastructure Committee. Farmers and others dependent on barge transport would have been in a jam if those breakdowns had occurred on the Upper Mississippi or Illinois rivers and forced a complete shutdown of traffic, he added.
Federal procrastination is driving up the cost of waterways projects, Martin said at the Mica session.
The Olmstead Locks and Dam project was supposed to take eight years and $775 million to replace the aging dams and temporary lock chambers, but will have taken 26 years and $2.1 billion if it's completed under its current schedule. Another project near Pittsburgh that was supposed to cost $550 million over eight years is now estimated to cost $1.7 billion over 24 years. And a number of projects on the Upper Mississippi and Illinois rivers authorized in the 2007 WRDA bill that were supposed to cost about $200 million apiece, now are priced in the $500 million to $600 million range, he said.
Industry groups have proposed an increase in the 20-cents-per-gallon fuel tax paid by the barge and towing industry to help pay for major rehabilitation and new lock construction.
Source: American Shipper