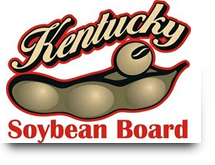 Kentucky Soybean Board joins Soy Transportation Coalition
The Soy Transportation Coalition (STC) is pleased to announce the recent addition of the Kentucky Soybean Board as a member organization. Kentucky becomes the ninth state soybean board to join the STC.
The Kentucky Soybean Board decided to join the STC at their July 30 meeting. Gerry Hayden, a producer from Calhoun, Ky., will be the organization's representative to the STC board. The Kentucky Soybean Board's membership will formally take effect on Oct. 1, 2010 – the start of the 2011 fiscal year.
"I am looking forward to being the Kentucky Soybean Board's representative to the Soy Transportation Coalition," Hayden explains. "Kentucky producers depend on having a quality transportation system for our ultimate profitability. Our infrastructure – whether locks and dams, highways and bridges or our rail network – is in significant need of modernization and investment. Farmers therefore need to be active in promoting a transportation system that continues to allow U.S. agriculture to be competitive in an increasingly global economy."
Dean Campbell, a soybean producer from Coulterville, Ill., and Chairman of the STC, says, "The board of directors of the Soy Transportation Coalition welcomes the Kentucky Soybean Board as a sponsoring organization. Farmers increasingly realize the health of our industry is strongly impacted by the transportation system that delivers what we grow to our eventual customers. Kentucky's participation will enhance our influence as an organization. We look forward to working with Gerry in the months to come."