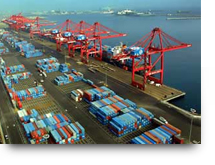 LA-Long Beach Union Talks Enter Second Month
Office clerical workers at the ports of Los Angeles and Long Beach pursued contract negotiations into their second month with local issues still dominating the talks.
Except for some picketing early last month by the Office Clerical Unit (OCU) of International Longshore and Warehouse Union Local 63, the office workers have been on the job daily and cargo handling at the ports is proceeding without interruption.
Each of the 14 companies in the employers' association continues to negotiate with the OCU on issues particular to those offices, said Stephen Berry, the attorney representing employers.
The union's key demand is job protection as port operations administration moves increasingly toward automation. Berry said that means the OCU wants to ensure employers hire temporary and permanent workers "even when there is no work for them to do."
He said employers have guaranteed current office clerical workers there will be no layoffs under the new contract.
The union also is seeking a 32 percent increase in wages and benefits over three years; employers offered a $1 per-hour wage increase and a 10 percent increase in pension benefits over a six-year contract.
Berry said the average OCU worker last year earned $96,900 and employers paid approximately $65,000 per worker in benefits.
Employers insist they must have the flexibility to hire temporary and permanent workers only as needed.
Source: Journal of Commerce