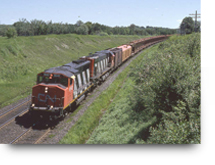 China to invest $US 10 billion in Argentine rail projects
The Chinese government has agreed to invest $US 10 billion in 10 different railway projects in Argentina despite a continuing trade dispute between the two countries. The agreement was reached on July 14 during a visit to Beijing by Argentina's president Mrs Cristina Fernández de Kirchner.
Projects include the rehabilitation of the Belgrano Cargas freight network, electrification of the Belgrano South and North lines and part of the Roca Railway, the revival of passenger services between Buenos Aires and Mendoza, the supply of 160 coaches and 24 locomotives for intercity passenger services, and the purchase of 500,000 tonnes of rails.
In addition, the deal covers the acquisition of 279 cars for the Buenos Aires metro, and the extension of Line E from Retiro to Ezeiza Airport, as well as the construction of a light rail line in Cordoba.
Source: Railway Age