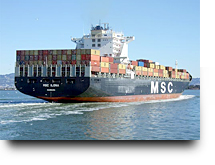 Container Ship Rates Hit New Lows

Charter rates for container ships have fallen to new historic lows as demand for freight movement on key trade routes is stagnant or declining due to the worldwide economic slowdown. Over the past three months rates on some ship sizes have retreated by as much as 35 percent with a likelihood of further declines in the weeks to come.

The daily charter rate for a 2,500 TEU vessel is slightly above $10,000 compared to $12,868 in early November and $25,000 in May, according to the Hamburg Shipowners Association. The rate for a 3,500 TEU Panamax vessel is currently $17,500 a day, down from $26,000 in August and the $29,958 average for all of 2007.

Approximately 70 chartered container ships have been idled as carriers eliminate or reduce services. Successive rounds of service reductions have cut capacity on the Asia to Europe route by nearly 25 percent since early summer.

TEU – "twenty-foot equivalent unit." A standard container size that can be loaded and sealed onto ships, railroad cars, trucks, and planes. The dimensions of a TEU are 20 feet (length) × 8 feet (width) × 9 feet (height).

Panamax Vessel – the maximum-sized category of ocean vessel that can transit through the Panama Canal.


Source: Journal of Commerce