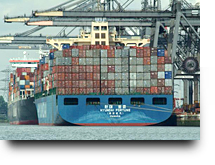 DP World Renews Effort to Establish
U.S. Port Foothold

The global financial slowdown could convince port authorities and policy makers in the United States to revisit their limits on marine terminal development to shipping lines and domestically-based investor groups. According to Dave Sanborn, senior vice president and managing director for the Americas at DP World, the current credit crisis could force U.S. ports to open up investment opportunities to foreign-based terminal operators like DP World and others.

DP World, owned by the government of Dubai, caused a political uproar when it sought to enter the U.S. market with the acquisition of the terminal assets of P&O Ports. Some members of Congress viewed the proposed acquisition as a threat to national security and forced DP World to sell the assets to Ports America, owned by U.S. based AIG Highstar Capital.

The economic downturn has put stress on shipping lines as cargo volumes have declined and freight rates have plummeted. During such a period of financial weakness, shipping companies often seek to shed assets such as marine terminals. Given the increasing need to develop marine terminals in the U.S. combined with the tightening of the credit markets, Sanborn argues that U.S. ports should invite the investment of global terminal operators, like DP World.


Source: Journal of Commerce