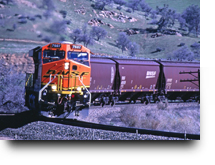 Soy Transportation Coalition Elects Officers for 2010

The Soy Transportation Coalition (STC) announced its newly elected officers at its January board meeting.

Dean Campbell of Coulterville, Il., was reelected Chair. Campbell's farm operation has been in his family for over 160 years, and he raises soybeans, corn and wheat. Campbell currently sits on the Illinois Soybean Association Board of Directors and also belongs to the Illinois Corn Growers Association, Illinois Wheat Association and Illinois Ag Leadership Foundation.

Dennis Feiken of LaMoure, N.D., was reelected Vice Chair. Feiken raises corn and soybeans and presently serves on the North Dakota Soybean Council. He is also active with the North Dakota Farm Bureau, serving on its Young Farmers and Ranchers Committee for three years.

Ed Ulch of Solon, Iowa, was reelected Secretary-Treasurer. Ulch is currently serving on the Iowa Soybean Association Board of Directors, the National Biodiesel Board and held offices on the Agribusiness Association of Iowa.

To learn more about the STC, visit its Web site at www.soytransportation.org.