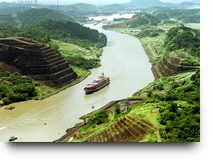 Panama Approves Toll Increases
Panama's Cabinet Council on Tuesday approved the Panama Canal Authority's proposed toll increases, which will result in tolls on container ships rising nearly 14 percent when they take effect Jan. 1, 2011.
The new pricing structure raises tolls for all vessel segments, including container, dry bulk, liquid bulk, vehicle carriers, reefers, passenger, general cargo and others.
Instead of assessing a toll on the rated capacity of a container ship whether or not it is carrying loaded containers, the authority will asses a toll of $74 per 20-foot equivalent container unit on a ship's rated capacity, plus a fee of $8 per TEU on laden containers only.
Under the plan, which was first proposed in April, a container ship carrying only empty containers will still pay $74 per TEU on its capacity, but nothing on its empty containers. In the rare case when a container ship passes through the canal carrying no containers at all, the toll on its capacity will be reduced to $64.50 per TEU.
The increase will amount to about $10 per loaded 20-foot container.
The newly approved pricing structure includes one amendment to the original proposal, which delays the implementation of the reefer segment increase on the portion applicable to the PC/UMS tons, from January 2011 to April 2011. All other segment pricing modifications will go into effect as scheduled in January.
"During the past few months we have talked with industry representatives, shipping lines, including government representatives from countries that benefit from the Panama Canal. We have listened to their feedback and have made adjustments to our pricing structure accordingly," said Canal Administrator and CEO Alberto Aleman Zubieta.
"For instance, we selected the tolls implementation date of January 2011 to respond to industry requests of a moratorium on increases in 2010," Aleman said.
The canal authority officially announced its plans to restructure the Canal's pricing on April 27. After a 30-day public consultation period, the canal authority held a public hearing in Panama City, Panama, on June 1, allowing interested parties an opportunity to express their views on the proposal.
The canal authority said that on the basis of discussions with industry representatives, shipping lines, and government representatives, as well as its own internal analysis, and in view of the world economic situation, it decided not to proceed with the scheduled May 1, 2010 toll increases and set Jan. 1, 2011 as the new date for implementing the tolls for all segments except reefers.
Source: Journal of Commerce