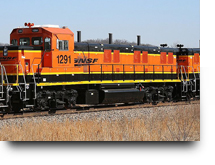 Court Rebuffs BNSF on Rate Case
Biggest-ever STB award to captive shipper survives main railroad challenge
BNSF Railway did not get much satisfaction in fighting a major coal rate judgment against it by the Surface Transportation Board (STB), as the U.S. Court of Appeals largely backed the STB decision.
The appeals court of the District of Columbia Circuit, where plaintiffs can challenge agency rulings, deferred to the STB on most issues in a May 11 ruling.
The STB in February 2009 had determined that BNSF charged "unreasonably high" freight rates on coal shipments to the Western Fuels Association and Basin Electric Power Cooperative, and it ordered the railroad to pay about $345 million in reparations and future rate relief.
That order included about $100 million the STB said BNSF would be obligated to pay for overcharges in 2004 through 2008, on six million tons of coal moved yearly from Powder River Basin mines in Wyoming to a power plant in Moba Junction, Wyo. This was, the STB said, its largest award ever to a customer whose shipments are captive to a single railroad.
The STB said because the power plant feeds into regional electricity grids, the case affects power pricing for consumers in Colorado, Iowa, Minnesota, Montana, Nebraska, New Mexico, North Dakota, South Dakota, and Wyoming.
BNSF appealed partly on the basis of the case breaking a three-year time limit built into the STB's governing statute for rate challenges, and over several issues linked to how the STB calculated railroad costs and allowable rates.
The case had become more complicated because the STB permitted the shippers to refile an earlier complaint after the agency revamped its rules for rate cases. BNSF argued that the STB also let shippers get away with "a blatant attempt to game" its new system of cost calculation.
But the appeals court said BNSF did not raise its statutory argument "in a timely manner before the board." It also rejected a railroad argument against shippers' proposed alternative shipment routing, but said the STB would need to decide how to handle another BNSF objection to the agency's cost calculations.
Source: Journal of Commerce