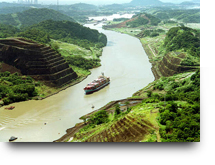 Panama Canal Gets Key Dredging Bids
Expansion will deepen Gatun Lake as canal advances modernization project
Six international engineering companies submitted bids Tuesday to dredge an area of the Panama Canal's man-made Gatun Lake that is central to the massive project to upgrade the canal and its capacity to handle larger ships.

The Panama Canal Authority (ACP) said it will now analyze the technical and financial aspects of the bids before awarding the dredging contract to the firm with the lowest-priced bid that meets the requirements.
The winning firm will widen and deepen the navigational channel by dredging approximately 4.6 million cubic meters in the northern reaches of the Lake.
The contract is one component of the Fresh Water Dredging and Excavation Project for the Canal Expansion, which includes the dredging or excavation of a sprawling expanse of the Gatun Lake and the Gaillard Cut.
Gatun Lake spans 163 square miles and is essential to the operation of the Canal. At its creation in 1910 during the Canal's original construction, Gatun Lake was the largest man-made lake in the world.
The canal authority said it plans to do most of the dredging and excavation within the Fresh Water Dredging and Excavation Project using its own resources, while contracting portions of the project, such as the area included in this contract in Gatun Lake.
The six companies that submitted the bids on Tuesday and the amounts of their bids were: Dredging international, $39,983,822; China Harbor Engineering, $67,377,423; Boskalis International, $85,500,207; Great Lakes Dredge & Dock, $72,392,354, Van Oord: $97,998,256; and Jan de Nul, $57,856,939.
The canal authority also has requested bids for the excavation and dredging of a smaller area near the Gaillard Cut at the entrance of the new Pacific Locks Access Channel. The ACP expects to receive bids for this contract July 16.
Source: Journal of Commerce