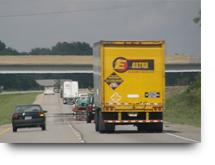 USDOT to award $600 million in 'TIGER II' grants
The U.S. Department of Transportation (USDOT) recently announced the availability of $600 million in another round of Transportation Investment Generating Economic Recovery (TIGER) grants for capital investment in surface transportation improvements.

The TIGER II grants will be awarded to projects that have a significant impact on the nation, a region or metropolitan area, and create jobs, USDOT officials said in a prepared statement. In September 2009, the USDOT received more than 1,400 applications from all 50 states and Washington, D.C., for the first round of TIGER grants.

To be eligible for a TIGER II grant, a project must contribute to the long-term economic competitiveness of the nation; improve the condition of existing transportation facilities and systems; boost energy efficiency and reduce greenhouse-gas emissions; enhance the safety of U.S. transportation facilities; and improve the quality of living and working environments of communities through increased transportation choices and connections. The department also will prioritize projects that are expected to quickly create and preserve jobs and stimulate rapid increases in economic activity, USDOT officials said.

Pre-applications are due by July 16; applications are due on Aug. 23.
Source: Progressive Railroading