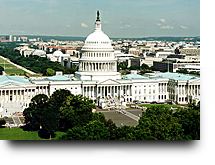 Short-line association stresses tax credit
legislation at 'Day on the Hill'


American Short Line and Regional Railroad Association (ASLRRA) members joined more than 300 representatives from other sectors of the rail industry at the Railroad Day on Capitol Hill in Washington, D.C.

Members of the association — a Day on the Hill sponsor — stressed the importance of federal funding and assistance for short-line infrastructure improvement projects, such as the Short Line Rehabilitation Tax Credit that's set to expire at year's end.

"The stimulus package overlooks the critical role played by private freight railroads in our economy, and the potential economic benefit of investment in freight upgrades," said ASLRRA President Richard Timmons in a prepared statement.

Legislation recently introduced by Reps. Earl Pomeroy (D-N.D.) and Jerry Moran (R-Kan.), H.R. 1132, and by Sens. Blanche Lincoln (D-Ark.) and Mike Crapo (R-Idaho), S. 461, propose to extend short lines' tax credits from Dec. 31, 2009, to Dec. 31, 2012. In addition, the bills would enable short lines to claim a tax credit of 50 cents for every dollar spent on infrastructure improvements up to a cap of $4,500 per mile of owned or leased track instead of the current $3,500 cap.


Source: Progressive Railroading