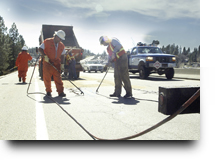 DOT Warns States on Stimulus Spending

U.S. Transportation Secretary Ray LaHood told state governors in a letter last week that all federal infrastructure funds they get under the national economic stimulus plan must go to transportation and other projects the money was originally meant for.
The letter comes after the Department of Transportation received reports from across the country showing contractor bids to build and repair transportation networks are coming in far below the original estimates. In some cases, DOT said fierce competition for the work and the low oil prices are combining to bring bids between 10 percent and 30 percent lower than expected.
LaHood reminded the nation's governors and state Secretaries of Transportation in the April 20 letter that any money they save on transportation projects paid for with American Recovery and Reinvestment dollars must be used for additional transportation projects.
"We will work with you to ensure that your state benefits from your frugality," LaHood said in the letter. "Savings you accrue from awarding low bids and from reduced construction costs due to your oversight and project management should remain in your state to be spent on other eligible transportation projects."
In seven weeks, DOT approved more than 2,400 requests worth $7.5 billion for highway, road, bridge and airport construction and repairs nationwide. Projects have been approved in every state.
According to the letter, it was the clear intent of the bill and is administration policy that whenever federally-assisted Recovery Act transportation projects are awarded, or constructed, at less than the originally estimated cost, any federal dollars that are not used for that particular project must be used for other projects consistent with the original Recovery Act appropriation.
Money saved from Recovery Act-funded highway projects, for example, may be used for transit and rail. But funds saved must only be used for eligible transportation projects. Source: Journal of Commerce