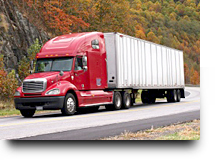 Ag Groups, STC Study, Succeed in Raising
Semi Weight Limits

On April 15, Iowa Governor Chet Culver signed House File 2512, legislation that expands the types of commodities trucks can carry using six- and seven-axle configurations at higher weight limits.

Culver said as Iowa farmers' yields continue to increase, the pressure to quickly and safely haul grain and livestock to market also increases. "This will help our agricultural economy continue to expand," Culver said. "We are proud to be expanding on Iowa's strongest traditional economic foundation, which is agriculture."

This bill provides an exception to existing weight restrictions for certain six- and seven-axle commercial motor vehicles traveling on non-interstate highways. Currently, most vehicles or combinations of vehicles are subject to a gross weight limit of up to 80,000 pounds; however, the gross weight limit for a livestock or construction vehicle with six or seven axles ranges from 80,500 pounds to 90,000 pounds for six axles, and up to 96,000 pounds for seven axles. The bill extends the same weight limits that apply to livestock and construction vehicles to all commercial vehicles of similar size.

Spreading trucks' weight over more axles reduces the stress on the roads trucks travel on, making the law beneficial to Iowa's infrastructure. Additionally, allowing for greater sized shipments means that less fuel will be used, due to fewer trucks on the road. The law will also help make roads safer: increased stopping power due to additional brakes means drivers will have more control over their trucks.

The Agribusiness Association of Iowa, the Iowa Corn Growers Association, and the Iowa Soybean Association were active in securing passage of the bill. In 2009, the Soy Transportation Coalition issued a report on the impact of heavier semis on motorist safety, infrastructure wear and tear, and efficiency gains for agriculture. The analysis provided much of the data to dispel the arguments against increased weight limits.

A summary of the Soy Transportation Coalition's analysis on semi weight limits can be accessed here.