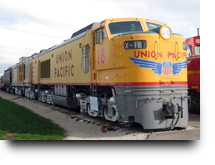 UP launches construction on Joliet intermodal terminal

Union Pacific Railroad officials and several dignitaries — including Illinois Gov. Pat Quinn, Rep. Debbie Halvorson (D-Ill.) and Federal Railroad Administrator Joe Szabo — recently marked the start of construction on the Class I's $370 million intermodal terminal in Joliet, Ill.

The 785-acre facility will be built in CenterPoint Intermodal Center – Joliet (CIC – Joliet), a 3,900-acre integrated logistics park being developed by CenterPoint Properties.

Located about five miles south of Interstate 80 and seven miles east of Interstate 55, the Joliet Intermodal Terminal will feature four 8,000-foot tracks for loading or unloading a maximum of 107 double-stack cars; six 8,000-foot tracks for sorting cars by destination; six tracks for staging cars prior to unloading or loading; four cranes equipped with Global Positioning System technology; more than 3,400 parking places for trailers and containers; an advanced yard system; AGS gate technology designed to decrease truck processing time from five minutes to between 30 and 90 seconds; and a state-of-the-art security system.

The terminal's initial phase is scheduled for completion in June 2010. The facility, which will boost UP's international and domestic container capacity, is designed to handle about 500,000 containers annually.

CenterPoint plans to spend more than $200 million to develop infrastructure — including roads, bridges and utilities — at CIC – Joliet. About 975 acres at the park are zoned for rail and intermodal terminal development, and 400 acres are pegged for container/trailer and equipment management facilities.