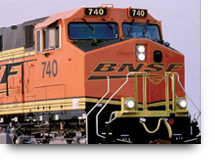 BNSF, UP post double-digit ROI
Recovering from the worst business downturn in nearly 80 years, U.S. Class I railroads earned an average rate of return on net investment of 9.6 percent in the 12 months ended June 30, 2010, compared with a year-ago ROI of 9.47 percent.
The nation's two largest railroads had returns in the low double-digits. BNSF Railway earned 10.25 percent vs.10.20 percent a year ago, closely followed by Union Pacific, with a return of 10.02 percent compared with 9.15 percent in the prior 12-month period.
Soo Line, smallest of the Class I railroads, was statistically the best performer in the 12 months ended with this year's second quarter. Soo Line ROI was 16.3 percent, up from 11.06 percent a year ago.
Norfolk Southern earned an ROI of 9.44 percent in the latest 12-month period vs. 10.89 percent a year ago; CSX earned 8.54 percent vs. 8.59 percent; Kansas City Southern earned 8.43 percent vs. 6.79 percent; and Grand Trunk Western, 7.84 percent vs. 7.39 percent.
Whether any of these ROIs meet the Surface Transportation Board's (STB) revenue adequacy standard is not now clear. In the view of the STB, which uses the information in rate cases and other proceedings, a railroad is revenue adequate if it earns the current cost of capital.
The latest cost of capital determination by the STB was 11.5 percent for the year ended Dec. 31.
Source: Railway Age