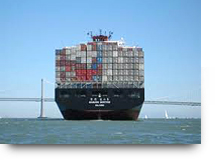 Container Ship Charter Rate Surge Pushes into August
Container ship charter rates are still climbing through the summer as ocean carriers compete for increasingly scarce tonnage to keep pace with surging cargo volume on key routes from Asia to North America and Europe.
Charter rates for ships that can carry 3,500 20-foot containers have more than tripled since the beginning of the year and are set to climb further as unexpectedly strong cargo demand is outstripping the supply of ships for hire and newly built vessels entering the market.
A 3,500 TEU gearless Panamax vessel is earning $17,500 a day compared with $14,000 in May, just $5,500 in January and an average $6,575 through 2009, according to London broker Clarkson.
Daily rates for gearless 2,750 TEU ships have soared 90 percent in the past three months hitting $13,250 compared to $8,000 in May.
A standard 4,250 TEU ship is commanding $24,130 a day on a two year time charter against $19,138 two months ago and $14,204 at the beginning of April, according to the Hamburg Shipbrokers Association.
A TEU ("twenty foot equivalent unit") is a standard container size that can be loaded and sealed onto ships, railroad cars, trucks, and planes. The dimensions of a TEU are 20 ft (length) × 8 ft (width) × 9 ft (height). The maximum gross mass for a dry cargo TEU is 52,910 lb: 47,770 lb (net load) + 5,140 lb (empty container weight).
The broadly based rally has driven up the Association's ConTex index, which covers six ship sizes from 1,100 TEUs to 4,250 TEUs, to 583 from 532 at the end of June and 275 at the beginning of March.
Ocean carriers' pursuit of chartered tonnage is driven by robust cargo growth on the export trades out of Asia to Europe and North America where most ships are sailing fully loaded with boxes.
Cargo volume on the Far East-U.S. trades grew 25.7 percent during the first three months of the new trans-Pacific contract season from May to July based on preliminary customs figures, according to Alphaliner, the Paris-based consultancy.
Weekly capacity deployed on Far East-U.S. trades is already back to 2008 levels and is 12 percent above 2009 levels, according to Alphaliner.
Carriers which withdrew capacity "in droves" last year are adding tonnage to the trade and three new lines have entered or are about to enter the market -- the first major newcomers since 2005.
Container lines can absorb higher charter rates as spot freight rates from China to the U.S. West Coast have doubled to $2,765 per 40-foot container from $1,360 in December.
Container ship prices also are surging as carriers and charter ship-owners place orders for new ships and step up purchases of second hand tonnage
Source: Journal of Commerce