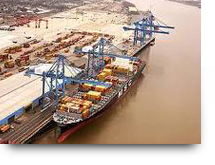 New Orleans container volume grows 60 percent
The Port of New Orleans saw a 60 percent increase in containerized volume in the first half of 2010, the port reported on August 23.
The port handled more than 200,000 TEUs through June and said it is on pace to top 400,000 TEUs for the year at the Napoleon Avenue Container Terminal in 2010.
A TEU ("twenty foot equivalent unit") is a standard container size that can be loaded and sealed onto ships, railroad cars, trucks, and planes. The dimensions of a TEU are 20 ft (length) × 8 ft (width) × 9 ft (height). The maximum gross mass for a dry cargo TEU is 52,910 lb: 47,770 lb (net load) + 5,140 lb (empty container weight).
The port said it expects to augment capacity by adding two container gantry cranes in early 2011, and $11.8 million in projects to add acreage and efficiency to the Napoleon terminal.
New Orleans said not one vessel was redirected during the 120-day BP oil spill response, as ship arrivals in the Mississippi River rose 12 percent compared to the same period last year.
Source: American Shipper