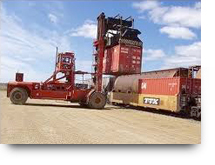 North Dakota intermodal port accepts first containers
Advocates for an intermodal facility to ship agricultural products from Minot, N.D., saw their vision realized August 23, reports the Minot Daily News. The Port of North Dakota began unloading containers from a BNSF train that morning with plans to fill them this week with commodities.
A number of supporters were on hand to watch the launch of the Ag-in-a-Box program. Guests included Congressman Earl Pomeroy, Gov. John Hoeven, city leaders, legislators, a Chinese trade delegation and representatives of BNSF, BNSF Logistics and Oriental Overseas Container Line.
"This is a very exciting day," said Greg Johnson, president of North Dakota Port Services, the port operator. "The train has arrived. We have been open for business actually for about three years now but the moment North Dakota has been waiting for has finally come"
Following a ceremony and ribbon cutting, visitors watched as heavy equipment operators using a specialized machine lifted the first of 90 containers from a train and loaded it onto a truck.
In addition to the 90 containers on site, the port expects to receive 40 containers a week, he said.
OOCL is the first carrier to make a commitment to providing containers.
"We are real proud to be the first ones here," said Edward Zaninelli, a vice president at OOCL. "You have the right idea. You have the right product. We have some challenges ahead of us."
He explained that North America faces shipping challenges, such as inland distances to the coast. In Europe, agricultural commodities don't need to move far to get to a coastal port, he said. Minot also will need to draw interest from more carriers and work hard on finding imports, he said.
Companies don't like to ship containers empty. Because there is limited demand in a small state like North Dakota for imports, it is difficult to get the containers needed to ship out ag products.
Zaninelli said OOCL, the 11th largest line in the world, decided to bring containers to Minot because of its previous partnership with BNSF.
"We felt that it was a place where we could probably work with each other in trying to get this off the ground," he said.
Speakers at the ceremony gave Greg Johnson much of the credit for getting containers to Minot.
Eric Wolfe with BNSF Logistics suggested port officials still have work ahead. The can-do spirit of North Dakota resulted in the launch of Ag-in-a-Box. Now the program must be used to be sustained, he said.
Johnson was vocal, as was Mayor Curt Zimbelman who spoke at the ceremony, about the need now to build an overpass on 55th Street. That project has faced its own delays because of lack of funding. The city would like a bridge over the railroad tracks on the street that runs next to the Port of North Dakota and agricultural park to accommodate the increased truck traffic to the port and businesses in the park.
Pomeroy indicated that he got the message and would work to find funding in the federal transportation budget.
"Having this facility come on line couldn't be a better match for our needs going forward," Pomeroy said, noting the state's economic prosperity that's being led by oil and agriculture. The port has been shipping oil while waiting for ag containers. At the time the port was conceived, no one could have known about the boom in oil and changes in agriculture that were to come. It required visionary leadership, Pomeroy said.
The Chinese trade delegation at the ceremony happened to be in the area to accept an invitation to attend. Peter Klaiber, marketing director for USA Dry Pea & Lentil Council, said the council typically escorts a Chinese delegation to see the size and quality of the crop at harvest time. The Chinese are interested in getting commodities in the most cost-efficient and timely way possible, Klaiber said.
"This is the kind of facility that can provide both of those things," he said.
Source: Railway Age